Experience the Atmosphere of Solidarity and Celebration at the 17th Annual Workers' Memorial Day/May Day Dinner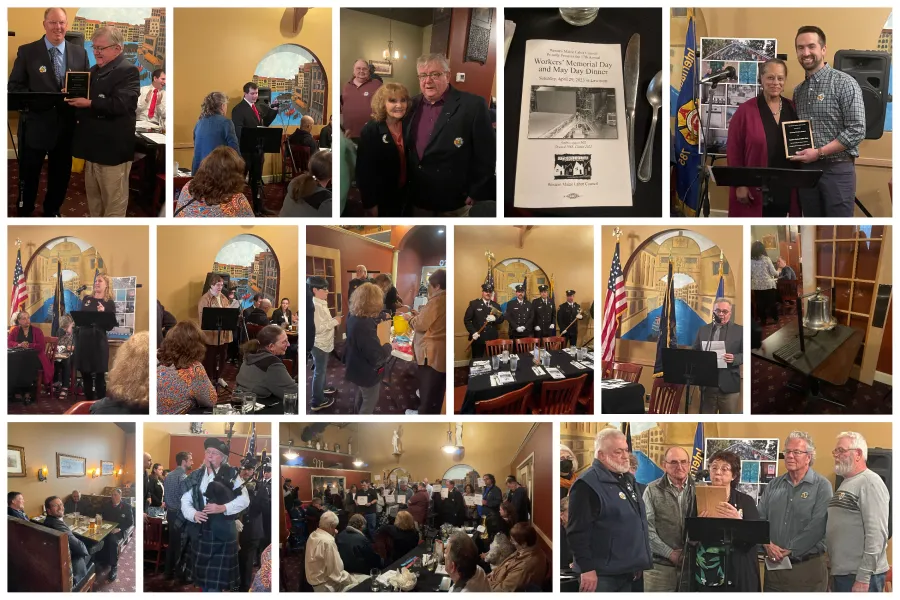 On April 29th, an atmosphere filled with hope and care permeated the air at Marco's Ristorante in Lewiston, Maine, as The Western Maine Labor Council's 17th Annual Workers' Memorial Day/May Day Dinner took place. It was a remarkable event dedicated to honoring and paying tribute to our fellow workers, showcasing the true essence of solidarity.
The event featured a distinguished keynote speaker, Rebecca Reindel, the Director of Occupational Safety and Health for the National AFL-CIO. In her speech, she shed light on the concerning rollbacks to child safety laws and the exploitation of loopholes by companies. Additionally, she highlighted the invaluable work undertaken by the AFL-CIO to safeguard the rights and well-being of all workers.
Rachel Talbot Ross, a ninth-generation Mainer and a prominent figure in the Maine House of Representatives was also present as a speaker. Throughout her career, she has displayed an unwavering commitment to public service and social justice. In recognition of her outstanding contributions, she was honored with The Frances Perkins Award, a well-deserved accolade.
The Workers Solidarity Award was bestowed upon the Local 14 Steelworker Retirees from Jay, Maine. Their unwavering dedication to upholding solidarity, even in the face of strikes, decertification, mill closures, and retirements, was truly commendable. This award celebrated their relentless efforts in keeping the spirit of unity alive within their community.
Moreover, the event paid tribute to Don Berry, a highly esteemed figure who has made significant contributions to the AFL-CIO, WMLC, Oxford Democrats, and IBEW 567. Don Berry's exceptional service and his role as the former president of AFL-CIO and WMLC, along with his extensive tenure as the training director for IBEW 567, earned him the prestigious Bruce D. Roy Award.
Mark your calendars and make plans to join us for the 18th Annual Workers Memorial/May Day Dinner on Sunday, April 28th, 2024. This event will be held at The Franklin Reception Hall and Mystic Theater, located at 49 Franklin Street, Rumford, Maine. Prepare to immerse yourself in an evening of solidarity, celebration, and remembrance as we honor the remarkable contributions of workers past and present.